First Visit
Your initial consultation is the best way to get all the answers you need from Wheaton's leading orthodontic team.  There is no cost, no pressure and no wrong age! Your free consultation includes:
Digital scan , photographs, panorex
Thorough smile evaluation
One-to-one meeting with the doctor
During your initial consultation, Dr. Weber and his team will address the following questions that most patients have while seeking orthodontic treatment.  We welcome these questions and encourage you to ask any additional questions you may have as well.
Do I have a problem with my teeth that orthodontic treatment can take care of?
Is treatment needed now or should we wait until my child is older, has more permanent teeth or other factors have occurred?
What treatment is best to correct my orthodontic problems — Invisalign or traditional braces?
Do any permanent teeth need to be removed?
Available treatment options
Approximate length of treatment
Insurance benefits
Please take a minute to fill out the patient information form before your first appointment.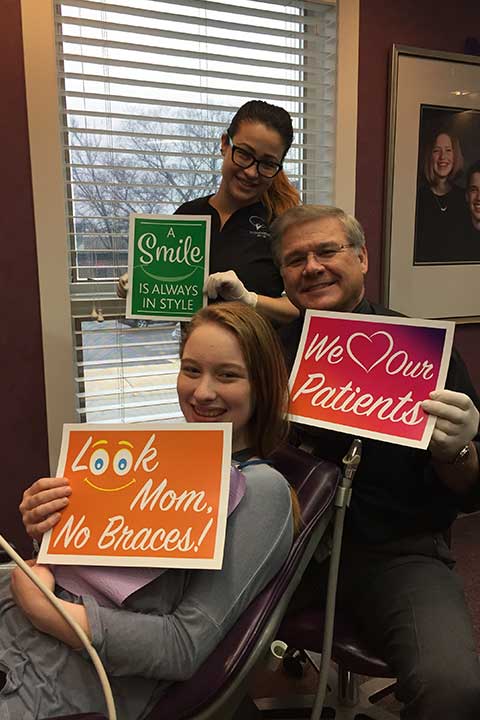 Weber Orthodontics
210 W Willow Ave
Wheaton, IL
Mon:11 am – 7 pm
Tues:8:30 am – 5 pm
Wed:9:00 am – 5 pm
Thurs:7:30 am – 4 pm
Fri: 9:00 am – 5 pm
Weber Orthodontics offers the most effective orthodontic treatments available with financing which makes it more affordable than ever before. We create beautiful smiles for kids, teens and adults in and around Wheaton, Glen Ellyn, Carol Stream, Naperville, Bloomingdale, Bartlett, Lombard, West Chicago and DuPage County, IL.
Dr. Robert Weber, voted the "Best Orthodontist of Wheaton IL", offers the most advanced braces for children, braces for teens and adult braces, including;metal braces; Damon clear braces, Invisalign for adults, Invisalign for teens, and more. Call: 630-665-5552 FREE Consultation for braces or Invisalign at our Wheaton, IL Orthodontist office.